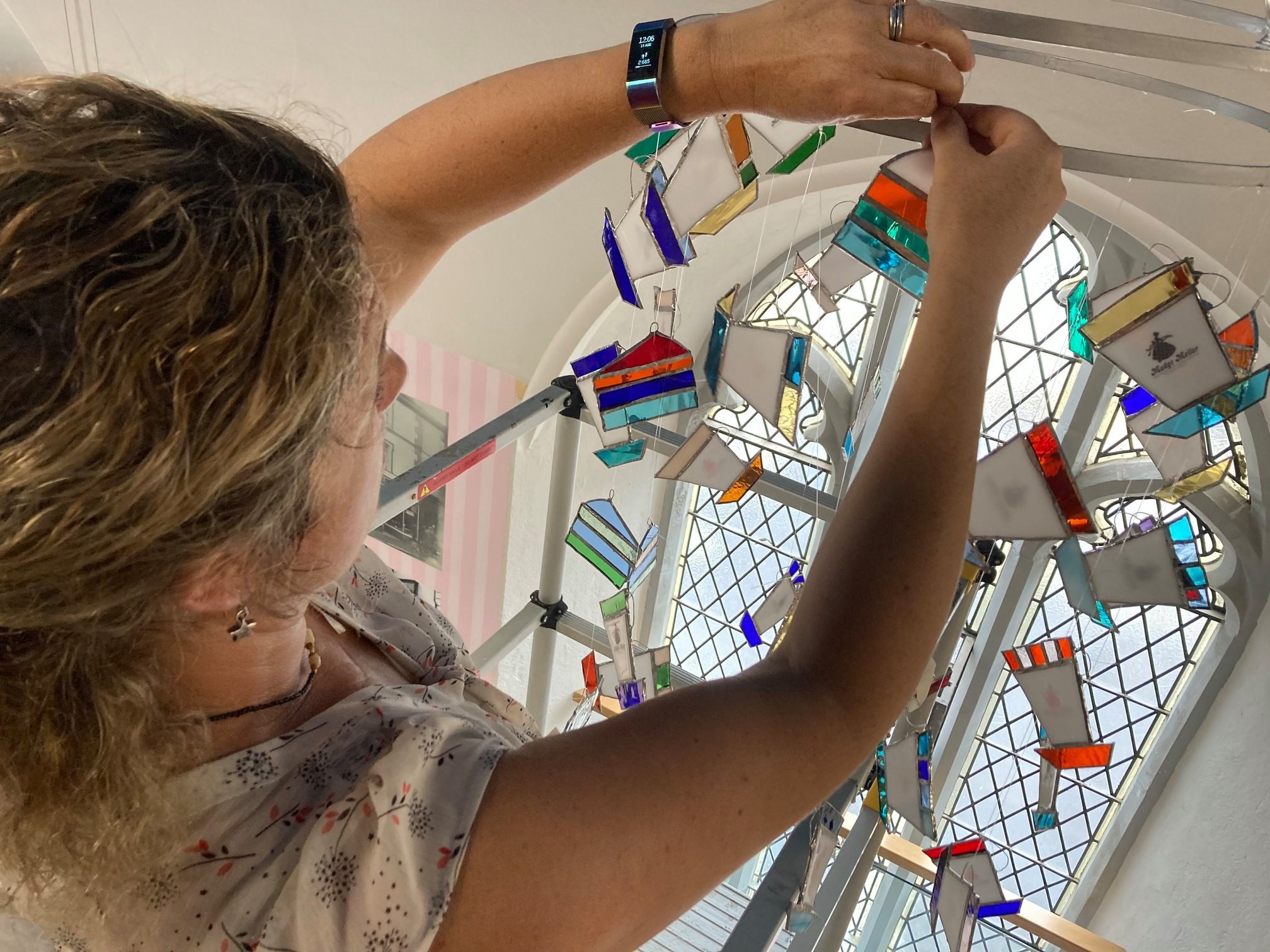 Activities and Events
A variety of exciting activities, workshops and events take place in the museum galleries, the community rooms and out in the town. These include getting hands on with museum objects, art sessions, memory cafes and 'behind-the-scenes' tours of the museum stores. Keep checking back regularly to see what's coming up.
Latest Events: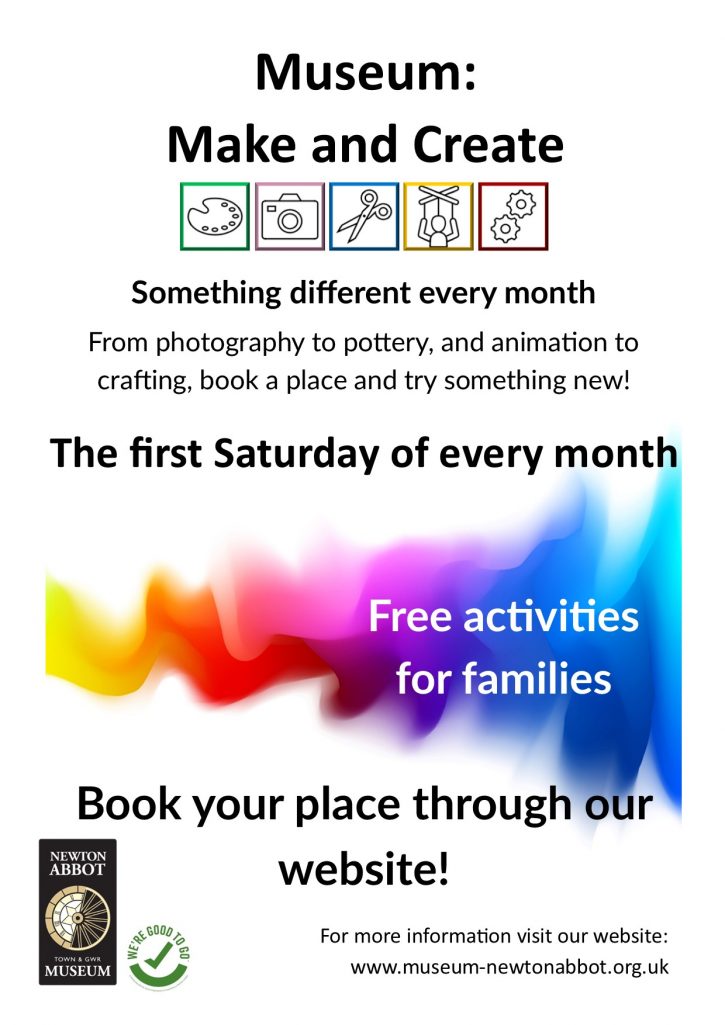 Full details about our upcoming events:

Music at the Museum
We are opening up the Museum on Wednesday 13th December for a FREE classical music concert!
After the lantern parade, come and join us in the Museum to listen to some beautiful classical and Christmas music.
Wednesday 17th December
7:30pm – 8:30pm
Museum Make and Create: Christmas Garland
Be inspired by photos from the museum collection showing Newton Abbot decorated for Christmas in days gone by and make your own decoration to take home.
Saturday 2nd December
10.30am-12.30pm
Book your FREE place here







Toddler Tuesdays, during term-time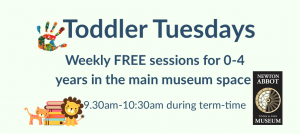 Upcoming sessions will be available to book for FREE from the week before, you can even set a reminder through Eventbrite! You can look at all upcoming sessions here
Upcoming sessions:
Oct:
17th
Half term-no session
31st
Dec:
museum closed until 22nd January
• Free informal sessions for children up unto the age of 4
• Every Tuesday during term-time
• 9:30-10:30
• At the end of every month the session will be activity based (story time still takes place); other sessions will be story based
• Takes place within the museum space
Please note that food and drink (except water) are not allowed in the museum space, but we have a seating area on the first floor where you can enjoy any food that you have with you.

Take advantage of Newton's Place facilities:
• Hot drinks machine and seating area upstairs with highchair
• Accessible toilets with changing facilities


Upcoming Relaxed visits
Newton Abbot Museum welcomes anyone who might benefit from visiting the Museum at a quieter time.
The next Relaxed Sessions will be:
5th February
8th April
In the meantime you can contact the museum to find out when the quieter times in the museum are.
Explore our galleries in a calm and relaxed environment where we will ensure our sound levels are reduced. There will be a quiet space available away from the galleries, and you are welcome to borrow our new sensory bags and ear-defenders.
These sessions are great for visitors with Autistic Spectrum Disorder or other communication and sensory needs and their families / carers but are suitable for all.
To help you prepare for your visit we have made a visual story which you can see if you click here. For other access information please visit our Museum Access page.
If you have any questions about the Museum's relaxed visits or require any further information, please email [email protected] or phone 01626 201121
Temporary Exhibitions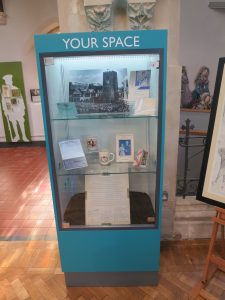 Your Space Case (in the conservation section)
We have some wonderful displays lined up for 2023, so don't forget to check back here to find out what is on show in the New Year!
Currently on display is a brilliant postcard collection
Do you have a collection that you would like to share? To find out if any of your cherished items could go on show in the Your Space Community Case in the future, please have a chat with staff in the museum or email our Community Engagement Officer Kate Green at [email protected]

***

Within the community rooms, the museum and local groups/schools can hold regular exhibitions of collections and artwork.
There is always something new to see and do in the museum – even for regular visitors. Every month, a different group or school chooses a new item for our 'Object of the Month' case. The photo wall has a new theme each month, with historic images of local places, people and events from different eras. The 'Your Space' case is updated regularly with displays of collections or artwork by the local community. Our 'Recent Donations' area allows us to display the very latest objects that have been added to the museum collection. In addition, our bespoke gallery cases have a flexible design so that displays can be easily updated and changed and the objects swapped with items in our stores.
Do you have a collection or make anything that you would like to share in the Your Space Community Case? We'd love to hear from you – please contact us with your suggestions.
You can find details of Town Council events here
You can view our museum gallery of past events and activities here or explore past temporary exhibitions and the museum collection here
The community rooms in Newton's Place are available for hire, full information is on The Town Council's website here