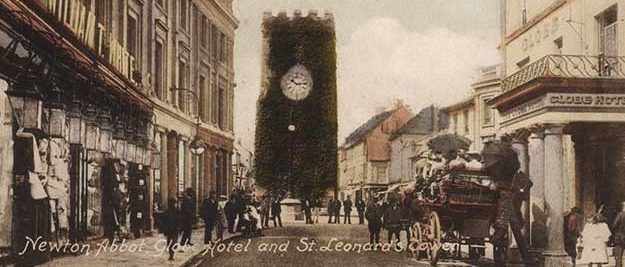 St Leonard's Tower, or the 'Clock Tower' as it is known to most locals, has become the most recognisable landmark of the ancient market town of Newton Abbot. It is owned and cared for by Newton Abbot Town Council and managed by the Newton Abbot Museum. It was built in the 13th century by the wealthy Abbots of Torre, and was originally a chapel.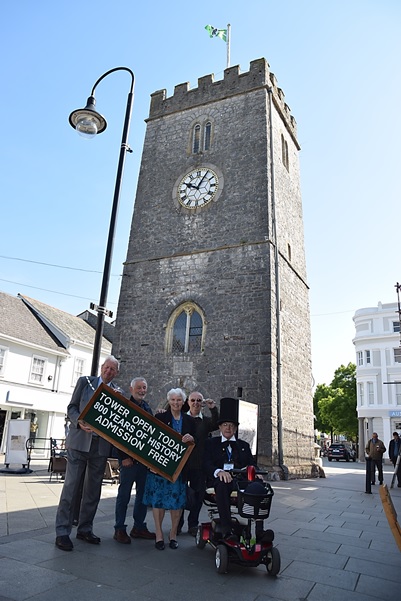 In 1688, an announcement was read in front of the chapel to tell the gathered crowd some extraordinary news. Prince William of Orange would claim the English throne, even though James II was still King.
The chapel was demolished in 1836 for a road widening scheme. However, pressure from people of the town saved the Clock Tower. St Leonard's Tower continues to be an important landmark and a place for meeting and celebrations.
Free Entry
This amazing 13th century survivor in the middle of town is available to visit thanks to the hard work of our volunteers.
The open season usually runs from mid-May to September every Wednesday between 10am – 1pm.
It is also open on some Saturdays, usually when there is an event on in the town centre.
Each year opening of the Tower is announced on Facebook, where current dates are kept pinned to the top of the page throughout the season.
2023 opening:
Wednesdays 10am-1pm * 17th May-13th September
Saturday 9th September
Saturday 16th September
Due to the nature of this ancient building, there is no wheelchair access to the upper floors. The steps are steep and access to the upper floor is at your own risk