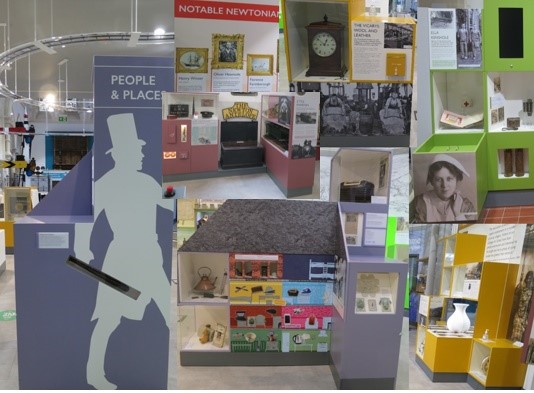 2020- A Year of Great Change
It's fair to say that 2020 has not been an easy year for the world but in the spirit of positivity I thought it might be an opportune time to look back at the amazing progress Newton's Place has made, despite adverse circumstances. Thanks to the incredible hard work from our team (from builders and designers to our wonderful volunteers) and support from YOU, we have made Newton's Place a vibrant reality.
So without further ado, here are some 'before and after' pics to prove that even among the hardship, some good came from 2020.

This dilapidated upstairs gallery that ran around the edge of the church and used to provide extra seating for services has become a mezzanine upper floor.
Now home to a flexible space that can be used for Town Council sessions, external meetings, classes, workshops, temporary exhibitions and more (when it is safe to do so). The grey wall on the right can be folded back to make an even bigger space if needed.
There is also a small area where you can sit with a coffee from our vending machine and admire the appropriately themed Madge Mellor display with historical photos, objects and a community art display (perhaps you made one of the stained-glass cups or cakes?). There's no 'before' image here, as this floor literally didn't exist before.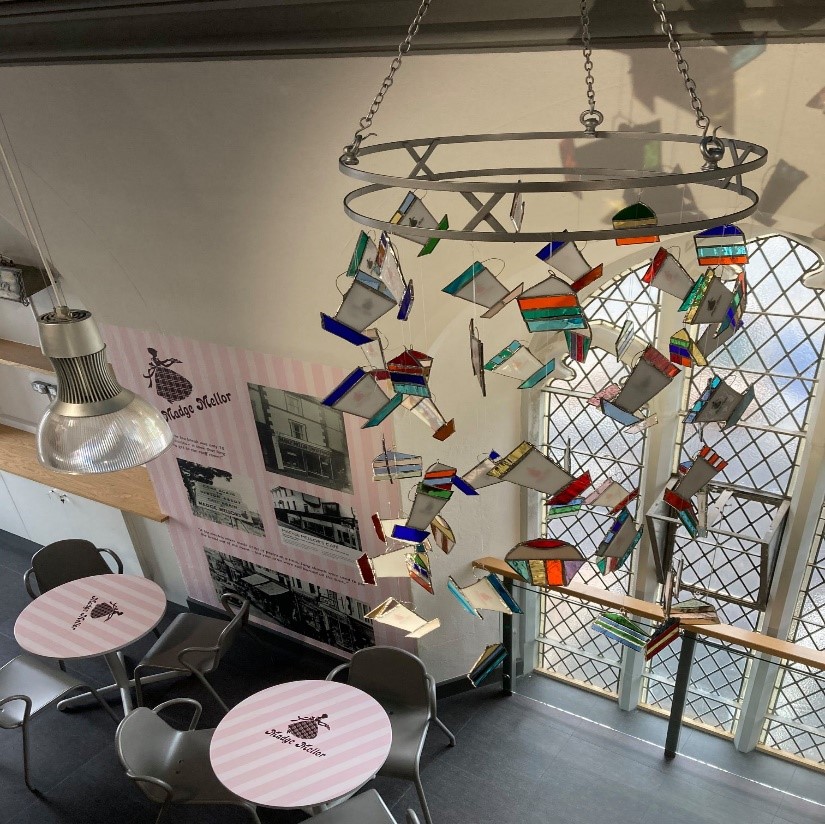 The ground floor is the main museum space, it's hard to believe the transformation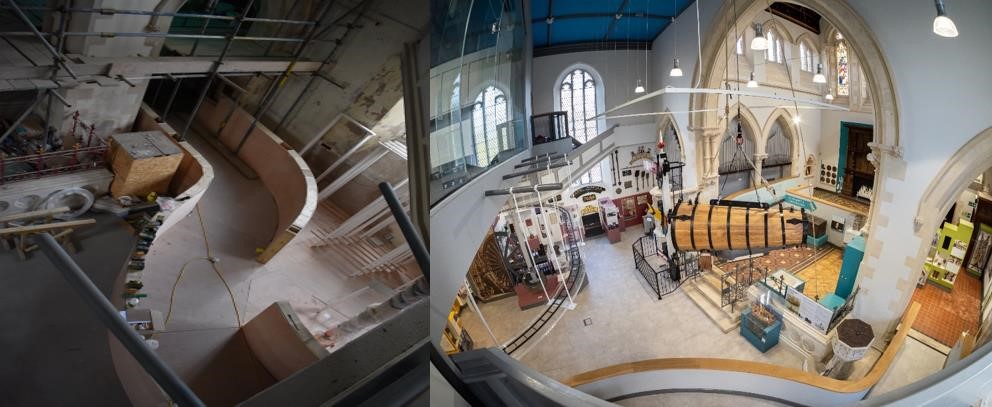 Transferring objects from their old home to the new was a huge undertaking but our Curator and Museum Assistant got there in the end! Masks, visors or staying 2 metres apart were the 'new normal' throughout this process as it happened during the pandemic.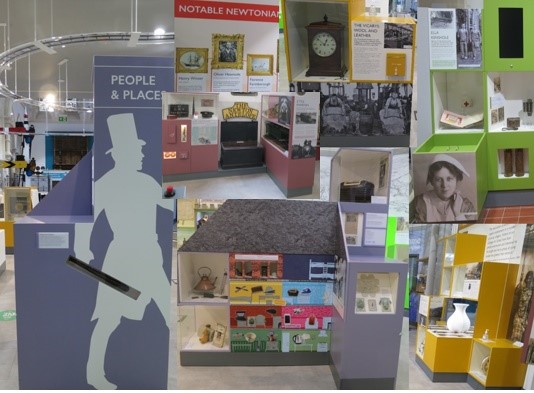 Using innovative colour-coded free-standing display case blocks we guide you through all aspects of the story of Newton Abbot
As well as making a space for the Museum, the Town Council and community rooms, the whole of the former St Leonards Church has been restored. Next up you can see just a few of these amazing period features being conserved. Stay tuned for more blogs as we haven't even touched on the fifteenth century church font or the painted Chancel ceiling this time.
The windows throughout the building underwent conservation, even the panes that weren't missing, broken or later replacements needed cleaning and reinstalling using the correct materials.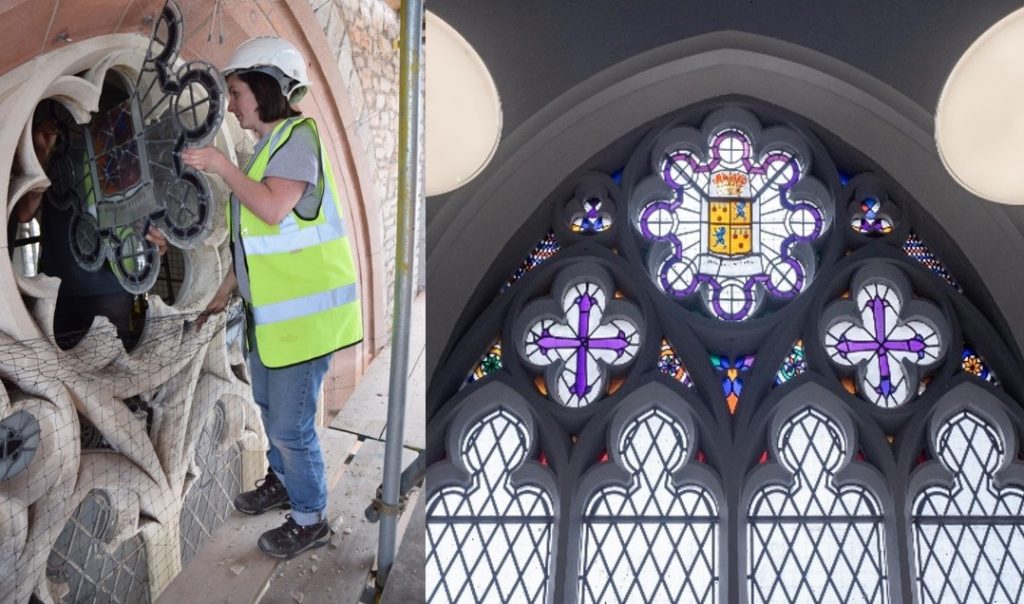 Some of the panes were blank/faded into obscurity so we commissioned an artist to make replacements that reflected the original colours and designs but also incorporated the 'wheel of time' from the museum logo and the pattern of the face of the clock tower, which is not just one of our best landmarks, but also the logo for the Town Council.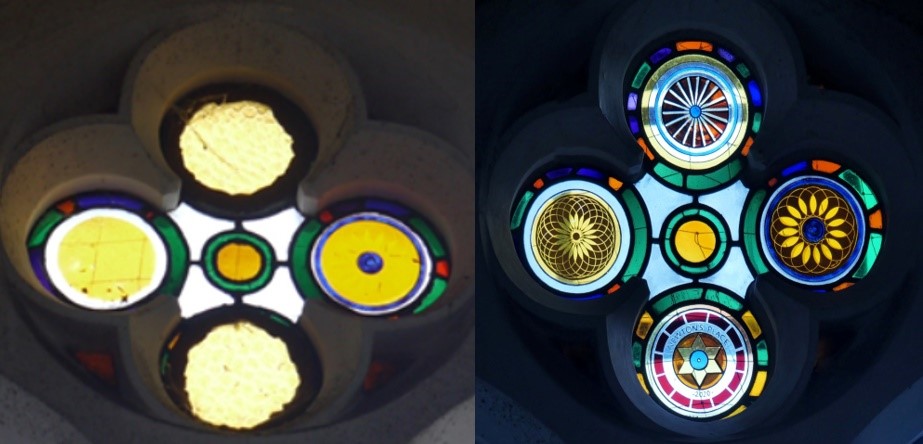 We had several decorated columns with really lovely carvings on the top. They had been repainted over their lives my amateurs with the wrong sort of paint, and the many layers of touch-ups had given them a rather blobby appearance. This paint was carefully removed and historically appropriate paints with the right colours and chemicals were applied.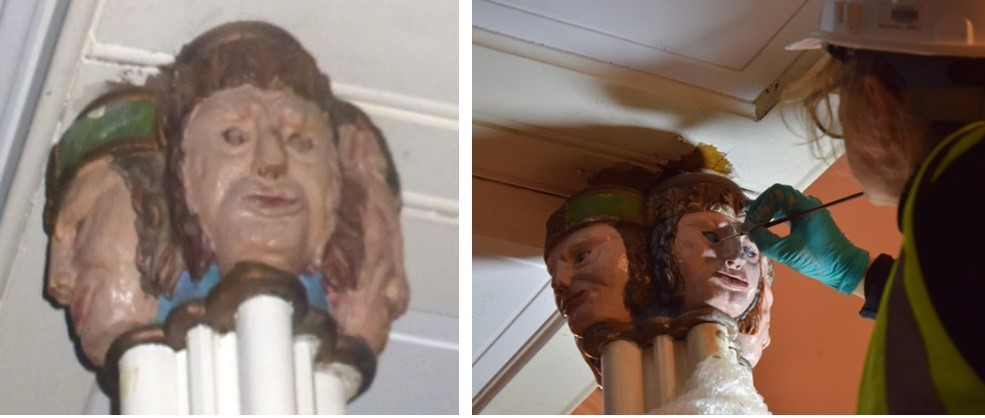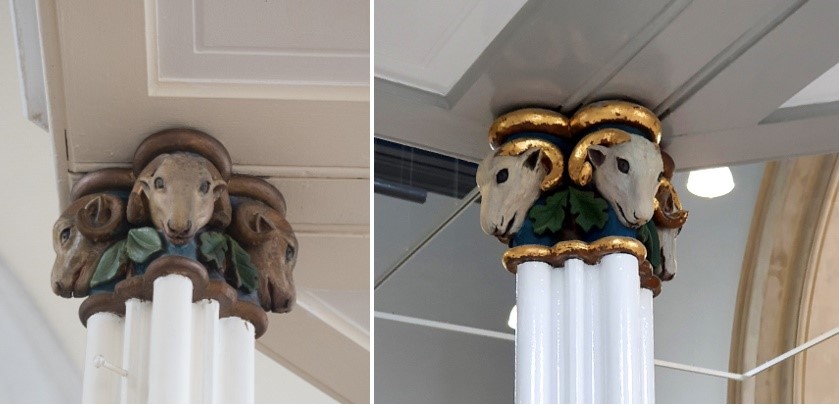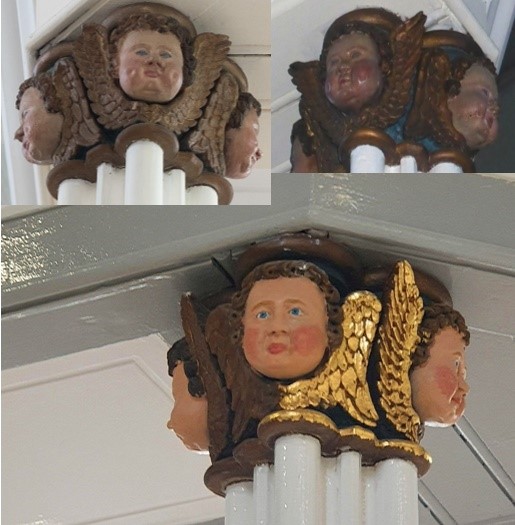 Cherubs part way through their facelift- already looking much better!
The pulpit was suffering under years of grime and it's statues were damaged and detached

Everything has now been professionally cleaned, regilded and put back in place ('after' photo features a bonus view of our railway signals)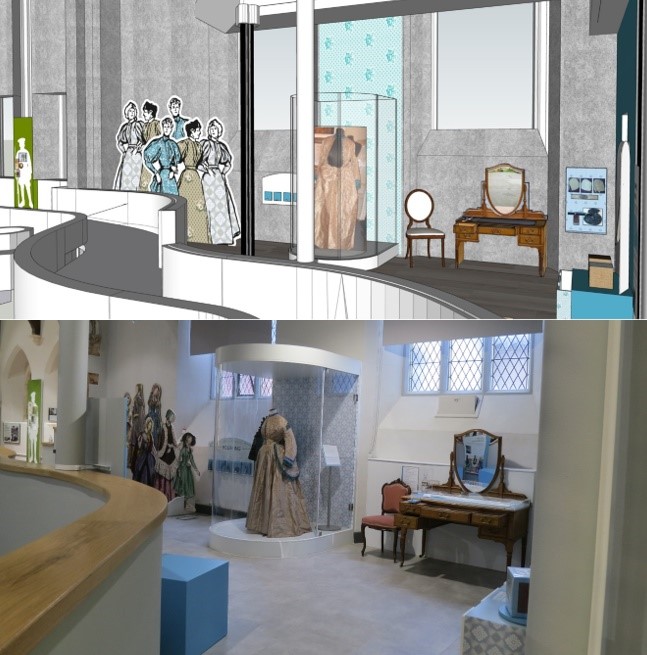 Every nook and cranny as been repurposed to educate and delight, this tiny cupboard was once used for communion plates and chalices. Rather than remove this important element of church life entirely, it has been converted to a fun secret. The outside may look the same, but the inside may suprise you. Take a peek each time you visit as our church mice love to decorate according to the season.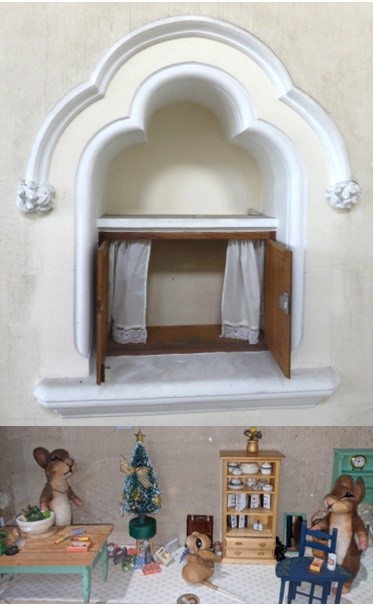 Even outside the improvements continue: the roof is repaired, the bricks repointed, our beloved GWR bench is in situ and colourful banners declare our presence.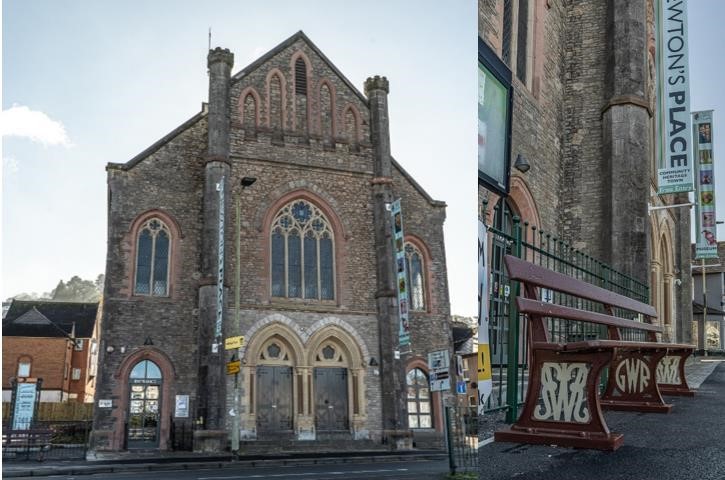 And a final comparison: from abandoned building to opening ceremony!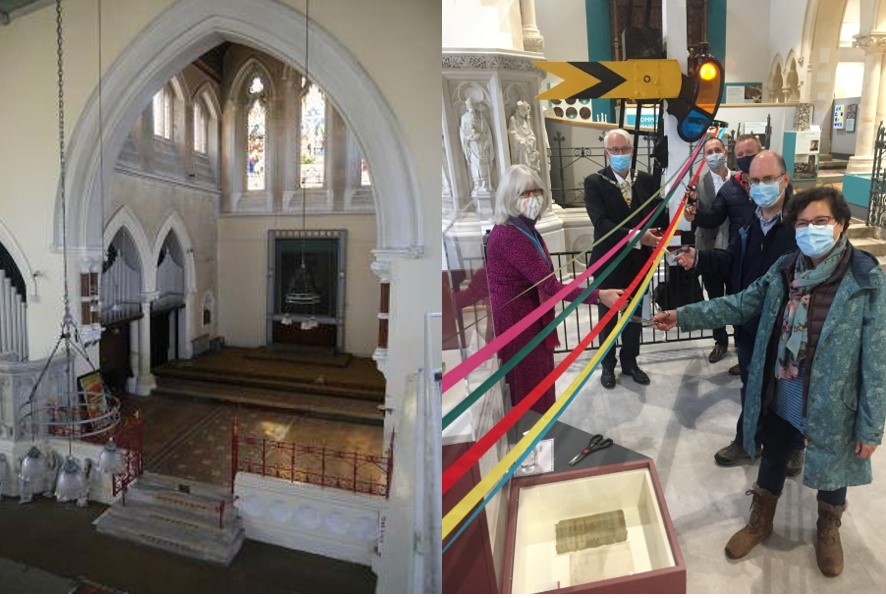 Masks, visors, hand-sanitiser, screens and distance reminders made the Museum COVID-safe for you to visit for a few weeks in autumn and winter 2020. We look forward to welcoming you back as soon as we can.