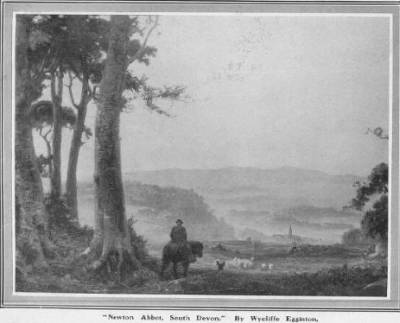 Wycliffe Egginton – Water Colour Artist 1875-1951 Headmaster of the Newton Abbot College of Art 1908-1919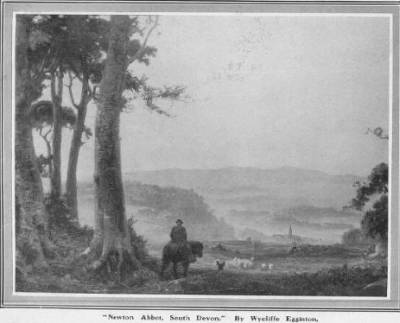 The above monochrome (copied from The Sphere 17th May 1913) is of a Watercolour that was displayed in Gallery 1 of the 145th Exhibition of The Royal Academy in May 1913.
The Art press described Egginton's work as recalling the Masters of British Landscape, with his skilful use of lighting and composition.
Wycliffe Egginton (also spelt Eggington), was born at Kings Norton, Birmingham on 12 October 1875 and baptised at Birmingham on 7 September 1879, eldest child of John Wycliffe Egginton, a merchant, and his wife Elizabeth Sarah née Green, who married at Kings Norton in 1874. Wycliffe was educated at Birmingham and Wallasey. He married Edith Calder (26 April 1880-1957) at Birkenhead, Cheshire in 1902, and in 1911 was living at 15 Kingsteignton Road, Newton Abbot, Devon with his 30 year old wife Edith and four children, Douglas Wycliffe 6, Edith Lucy 3, Francis John 2, all born in Wallasey, Cheshire and Elizabeth Mary who was born in Newton Abbot.
He was Headmaster of Newton Abbot College of Art from 1908 until 1919 and elected as an Associate of The Royal Academy in 1912. As a landscape painter in oil and watercolour he specialised in Moorland scenes, both of Dartmoor and Scotland. He had many one-man shows at the Fine Art Society, the Paris Salon and in Glasgow.
On retirement he moved to 3 South View Teignmouth where he exhibited at 5 Devon Terrace, but spent many summers painting and caravanning around Scotland. He died at Rosemont, Dawlish, on 15 June 1951. His son (Francis John) Frank Egginton (10 November 1908–7 April 1990) was also an artist, living and specialising in Irish Watercolour Landscapes.
Unfortunately, the whereabouts of the Newton Watercolour is not known, but our Museum does have a painting of Keyberry Mill by Wycliffe Egginton.
The Watercolour below of The Teign is an example of his skilful use of lighting and colour