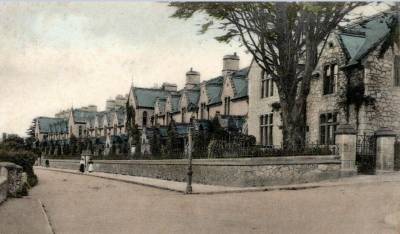 The Mackrell Almshouses
I've been guilty of it myself, calling these buildings the Mackerel Almshouses, but I've just found out the correct name is Mackrell Almshouses, I thought obviously named after a chap from Scotland, but I was wrong again. The Mackrell surname is French, introduced into Britain after 1066, meaning Fish Merchant, especially those dealing in Mackerel. So, I was correct after all!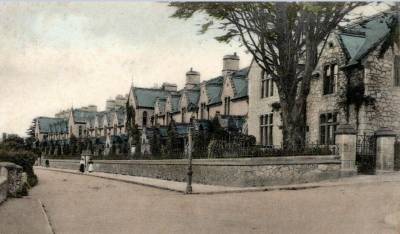 Who was Mr Mackrell?
He was Thomas Mackrell, born in 1797 in Wolborough to Thomas and Sarah Mackrell (nee Downing). Thomas the elder was an Innkeeper, possibly the Landlord of The Bell Inn, Bridge Street (Now Bank Street). They had 10 children, many dying very young, but Thomas thrived and when he was about 17 left Wolborough to become an apprentice to Mackrell & Co a Chemist in Barnstaple; the familial connection is not known.
A John Mackrell began the business, around 1800 and it was probably transferred to Thomas around 1846, on the death of John. However, it was reported that he took over the business from a Mr Roberts, more detail is not known, but perhaps Thomas moved the Mackrell business to Roberts premises after the latter retired.
Mackrell & Co of Barnstaple are described as Chemists in the early 19th Century and Chemists & Druggists later. The merging of Chemists (dealers in chemicals) and Druggists (dealers in drugs of animal and vegetable origin) was a gradual process, given licence by later Acts of Parliament.  They both sold chemicals, patent medicines, herbal cures etc, but also provided medical advice and prescriptions mainly to the poor who could not afford the services of a Physician.  The company expanded its business interests into non- medical products, such as Coal Tar Paints (creosote), for which they had many adverts.
Thomas a lifelong bachelor lived most of his life with his spinster sister Sophia in Barnstaple, later joined by their two other spinster sisters.
He had two brothers who were also chemists, John who died in 1846 and William who died in 1868; it is known William left Thomas a large fortune he made from shares in the Railway.
Thomas retired in his mid-fifties and seems to have devoted himself to local community and charitable works.
Thomas was Vice President of The Barnstaple Literary and Scientific Institution, being responsible for recording and submitting meteorological data to the Registrar General on the climate in Barnstaple. His submissions were the only such information received from the County of Devon. He was a board member of the North Devon Infirmary, acting as Auditor in the early 1850's, and a Trustee of various local charities.
Local gossip said that he was annoyed with the "authorities" in Barnstaple and as a consequence "resolved to record by some act of beneficence his childhood association with Newton Abbot". The annoyance may have been related to a public lighting project that he financed, but was turned down by the Barnstaple Local Board, or another dispute with the Local Board[1] concerning their inappropriate use of Charity Funds for a Grammar School.
Some years before his death he employed Mr Rowell, a local Architect who had built many properties in Newton, to design and build the Almshouses in Wolborough Street, at an expense of £5000, plus £500 for the land, together with an endowment of £5000. The plans were approved by Wolborough Local Board and the Almshouses were completed in 1877. His original objective was to provide a home for "decayed" tradespeople of the Town, but this was later amended to the poor, who were over 50.
In addition, Thomas paid for the building of a property in the Forde Park area for "fallen girls", which housed single mothers fallen on hard times, together with a contribution to a fund for improvements to St. Leonard's Church.
Thomas died, in Barnstaple on the 9th November 1883, aged 86.
As a memorial to Thomas Mackrell's largesse, the Rector of Wolborough, Rev H. Tudor, suggested that three coloured glass windows should be placed in the east end of the new chancel of St Leonard's Church. The windows were to be designed and made by Mr F Drake of Exeter and would represent the Nativity, Crucifixion and Ascension.
Sophia Mackrell, Thomas's sister was of a similar charitable disposition to her brother. In her lifetime she made donations to various causes, including Newton Cottage Hospital. On her death in 1893 she left half her fortune to Barnstable Infirmary and the Emmanuel Church and the remainder to add a further eight dwellings to the Almshouses.
As Sophia was last surviving member of her immediate family, she directed in her Will that a monument should be erected in Wolborough Churchyard with twelve side panels recording each of her 9 siblings and her mother and father. It was designed by J Rowle & Son, in the early English style, in Bristol Blue Pennant stone.
One odd fact concerning the family is that none appeared to have married, and no offspring are recorded.
The Almshouses now consist of 38 flats and cottages, a studio, one- and two-bedroom dwellings. It has 24-hour resident management staff, a Careline alarm service, a lounge and Garden, catering for residents of Teignbridge District Council.
The right-hand entrance has an inscription in the tympanum over a shouldered-arched opening which reads "By the grace of God the Mackrell alms-houses built and endowed by Thomas and Sophia Mackrell, natives of Wolborough were extended by the erection of eight additional dwellings in the year of Our Lord 1894." A similar inscription on the left-hand entrance is dated 1874.
---
[1] Local boards or local boards of health were local authorities in urban areas of England and Wales from 1848 to 1894. They were formed in response to cholera epidemics and were given powers to control sewers, clean the streets, regulate environmental health risks including slaughterhouses and ensure the proper supply of water to their districts. Local boards were eventually merged with the corporations of municipal boroughs in 1873, or became urban districts in 1894