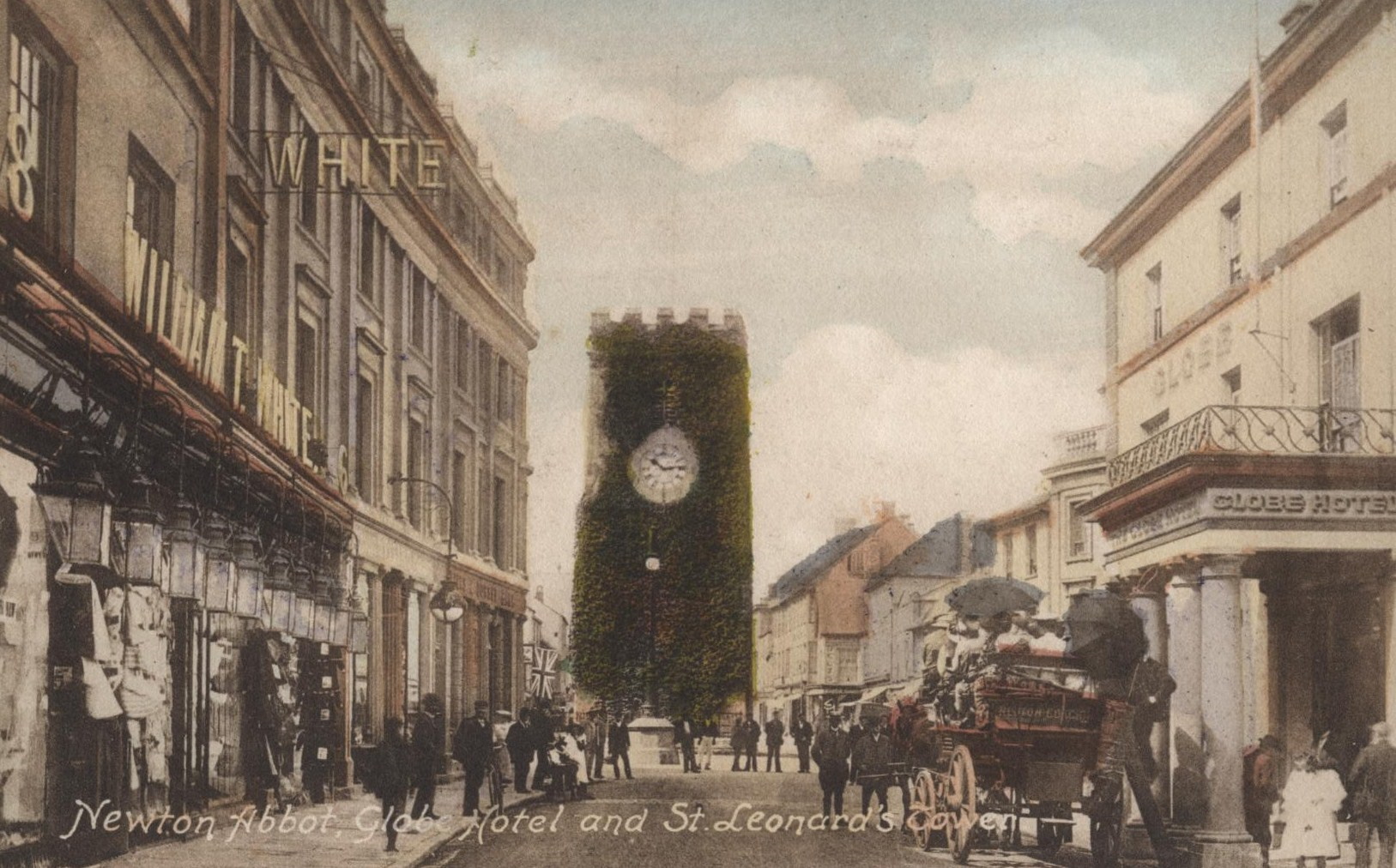 Reminiscences of Old Newton Abbot
Info for this article taken from East and South Devon Advertiser 3rd October 1896
In August 1896 a certain Mr W Roberts on his retirement as an Assistant Overseer[1], was invited to relate his memories of Newton Abbot. He was especially interesting, due to having all his faculties at such a great age; and remembering stories just a few years after the end of the Napoleonic Wars.
"I was born on the 3rd July 1817 in Wolborough Street. The population of Wolborough was 1700, Highweek 850 and Torquay 1000, Torquay being about one third the size of Newton. Friends who lived in Torquay used to come to Newton for the latest fashions and costumes. At that time the principle streets were East Street, Bank Street-then called Bridge Street because of the bridge over the Lemon, which flowed down as an open water-way where Market Street now stands and was the Cess-Pit of the Town – and Wolborough Street. The Chapel attached to St Leonards Tower was still standing; it was a small building. Newton Market was then held in Wolborough Street at the end of St Leonards Chapel."
"Education was not what it is now. I went to Bell[2] School over the Shambles[3] in Wolborough Street, and may be looked upon as the predecessor of the current National School; I am bound to say we were not taught very much. We read out of The New Testament, leant the collect for the week and on Sundays walked to Church, mornings and afternoons. On Sunday evenings the Rev John Bradford would come and give us a lesson in Scripture. There was also Chudleigh's School called after its Master, situated behind where Stitson's Hay and Corn Stores are now in East Street. My school master was a broken down cabinet maker, his wife looked after the girls. Between them they received an annual salary of £50.The school was conducted on the voluntary principle."
"I remember that between Bearne's Lane and the Garden of the Globe Hotel was a grove of trees, in which there was an extensive rookery. Many Rooks I have shot there. The row of small houses at the back of Courtenay Street no doubt got their name[4] from the trees that once stood there. "
"I remember the Rev D M Stirling[5] who produced a small history of Newton in 1830. I recollect an amusing incident in connection with him. He once made a wooden bicycle, which he tried out on Milber Hill, but it was so clumsily constructed that it was more trouble coming down than going up."
"I recollect the construction of St Leonard's Church in 1836. A fatal accident almost occurred at the laying of the foundation stone. The stone was laid by Mr Thomas Knight Sweetman, the oldest Feoffee and churchwarden of his day. Just as he had finished laying the mortar with his trowel and raised his head, the hook snapped and the huge stone fell, covering Mr Sweetman's best Sunday clothes all over with splashed mortar. 'Drat it', he said. 'I've spoilt my best waistcoat'. My connection with the church extended over a long period. Before organs became general we had a small orchestra to lead the singing My mother's family the Hannaford's at one time formed nearly the whole choir, her father who live until he was 92, played the bass Viol or double bass; his son James also played and his son Samuel remained in the choir his whole life."
To be continued.

---
[1] Assistant Overseer= was an official who administered poor relief such as money, food and clothing. They were replaced in the Poor Law Amendment Act 1834 with Boards of Guardians, although they remained in some places as a method of collecting the Poor Rate.
[2] Wolborough School in East Street was formerly known as Bell School, but is not at the same location referred to by Mr Roberts.
[3] Shambles is an obsolete term for and open air slaughterhouse and meat market.
[4] The Grove
[5] A History of Newton Abbot and Newton Bushel. (Available on Google Books) l