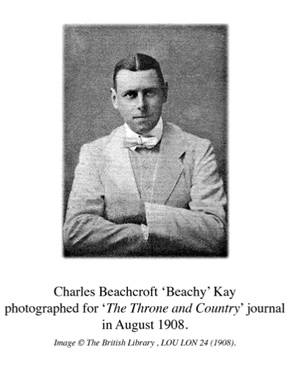 A New Notable Newtonian Discovered! Olympic Gold Medallist, Actor, Singer and More…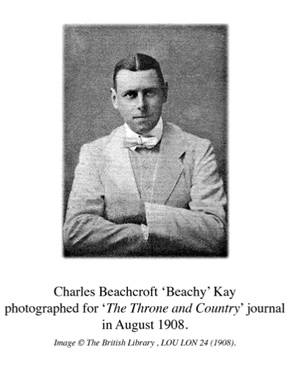 This gentleman is Charles Kay, also known as Charles Beachcroft Kay, C B K Beachcroft, and even Jack Trent. As his many aliases may suggest, he was quite a character: famous (some would say infamous) within the West Country and further afield. A man-about-town with a wide variety of interests he was known for his sporting prowess, his music hall performances, his acting career and his way with the ladies.
As Honorary Secretary of the Exeter Ping-Pong Association he is credited with introducing ping pong to the West Country, as well being Captain of the roller skating team.
Kay was born in Rickmansworth in 1870, when his father (a vicar) passed away Charles and his mother moved to Wolborough in 1877. At public school in Devon he earned a reputation as an excellent sportsman, this continued into adulthood: in 1900 he captained the England cricket team that won a gold medal in the Paris Olympics (the only time that cricket has been an Olympic sport).
Somewhat surprisingly for the son of a vicar he also took to the stage: he had a real flair for the dramatic, writing and professionally performing in successful Variety Hall shows from 1905 onwards. His acts were witty and satirical, often with a musical element. It is perhaps telling that during this theatrical career he had four different female partners for his act. Indeed, our CB Kay was a serial adulterer, he took on a series of young 'wives' and fathered at least 13 children.
He seemed to spend quite a bit of his time in court, defending against charges of poaching, gambling, bankruptcy, licensing disputes and even abduction of a minor with the intention of carnal knowledge.
Despite this he was well-liked: quick witted and physically imposing (described in a theatrical review as 'six feet of smartness') he took an active interest in his local area helping to set up and run a slew of theatrical and sporting clubs in the Newton area. He was also landlord of several Devon pubs.
His dramatic flair and love of sports came together when he set up a bike festival to run though Newton Abbot, where he is described as cycling furiously up Market Street dressed as Mephistopheles 'his blood red garb and fiendish face giving him a very strange appearance'.
As the twentieth century rolled on the new world of cinema and silent films began to adversely affect bookings at the UK's variety theatres, so Charles decided to emigrate to Australia where he was able to successfully tour with his act.
He died in Melbourne in 1928.
The full story of this lovable rogue and his exciting life can be found in 'One of Life's Great Charmers' by Michael Charles Fairley. We have a copy in Museum Reference Collection and it is also available for purchase via Amazon.