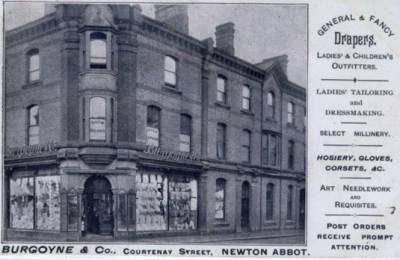 The Shop that Never Was…or Was It?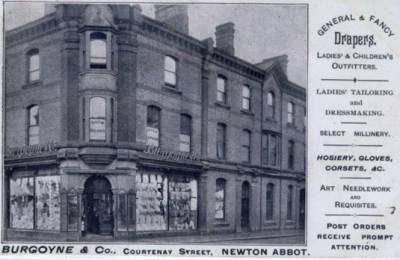 David Bowen, a local Postcard Collector and Museum Talk contributor, acquired this postcard which purported to be in Courtenay Street, Newton Abbot. And yet, extensive research of Trade & Telephone Directories, Censuses and Advertisements found no reference to this shop in this town.
A T. H. Burgoyne, selling similar products was found in Bedford Street, Plymouth, but this went bankrupt in 1863, another Burgoyne & Co, imported Australian Wine. This shop appears from its display and signage to be late Victorian or early Edwardian and there had been considerable investment in Stock and Services.
If it was in Courtenay Street, its most likely position would have been on the corner of Union Street and Courtenay Street, at No 42, the present location of HSBC Bank, next to Gerry's. My "Record of Commercial Premises in Courtenay Street 1844-2009"[1] , records that the No 42 was occupied by Charles Pope, Tailor from 1889 until the 1890's, then in 1902 by William Badcock, even though they already occupied No's 34,36 & 38 Courtenay Street. A gap then appears in the record from 1903 -1910, could this have been when Burgoyne & Co were present?
A search of the National Newspapers[2] finally found a reference to Burgoyne & Co, Newton Abbot, with the rather piqued announcement[3] in 1906, that they were "Relinquishing Business" at No 42 Courtenay Street and selling all their stock at reduced prices.
So this shop did exist, but it was only in business for a few years and probably went bankrupt because they could not compete with Badcock's, who sold similar stock. Article by George Hampshire, Museum Volunteer

---
[1] What was there before there then? (and before that). Museum Collection
[2] British Library
[3] East and South Devon Advertiser 24th Nov. 1906