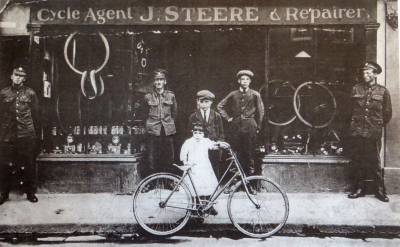 7 Wolborough Street- the Story of Jimmy Steere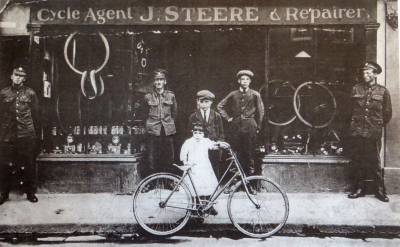 The early 20th Century was period before the internet and TV, jobs were hard to find, many lived in inadequate housing, sometimes without running water or electricity and money was short.
Pleasures were often simple and free: listening to a Band in the Park on a Sunday, watching local teams play Football and Cricket, taking part and following Town and Hospital Carnivals, looking and voting for the best Xmas shop window etc.
One man in Newton Abbot contributed to these communal events, playing in Bands, but memorably taking part in the many Carnivals as a one man band. His obituary in the Mid Devon Advertiser saying he was one of the most colourful local characters in last 50 years.
That man was James Stephens Steere, affectionally known and remembered as Jimmy Steere.
Jimmy was born in 1882 in East Stonehouse, now a part of Plymouth, his parents Henry and Emily were both recorded as Beer Sellers and had run the Brighton Inn, Union Street since 1878. Union Street at that time was a tough palace, swarming with Sailors of all nationalities, Prostitutes, habitual drunkards and ne'er do wells, so for Henry to keep good order, he must have been a tough individual. When he was in his early teens, this somewhat boisterous life was to come to an end, with the death of his mother in 1896 and his Father in 1897.
He was taken in by the Landlord of the Sun Inn East Street, John Dennis, who he lived with until his marriage to Beatrice French in 1902.
Music was a major part of his life, learning to dance, sing and play the Accordion from the Italian Sailors who frequented his Fathers Inn. He was a very popular entertainer, playing dance music, Opera, Marches and accompanying Singers in any key. But he will be most remembered for taking part in all the Carnivals, with Accordion and Cymbals in Newton Abbot and other local towns.
Before WW1 he lived with his wife and 5 Kids at 47 & 49 Halycon Road, but the two houses only had 3 rooms. He had a full-time job, probably at Vicary's Tanyards, but a neighbour recalls he also repaired Bicycles and every Sunday evening would take his family out on an old Wicker Bath Chair, which he hooked by an iron rod to his Bicycle. His wife would sit in the Bath Chair, with her baby in her arms, and two younger children at her feet. All the neighbours would be out to watch them off, but they never knew when they would return.
The chronology is uncertain, but probably after WW1, he opened a Bicycle repair shop in Kingskerswell, but sometime around 1920 moved his shop to 7 Wolborough Street , next to The Ship Inn. He had always been a keen motor cyclist, probably a pioneer, buying his first bike in 1910, it was without a clutch, kickstart, magneto or lights. He often said he spent more time pushing the bike, rather than riding it.
He graduated to a car, which he purchased from a Mr Harold St Maur of Stover, which he used to ferry wool from Newton to Buckfast at 6d a mile or to run a "Service" to the Kingsteignton Ram Roast from Newton at 6d a trip, carrying 9 passengers in his five seater Car.
There were many other amusing stories about Jimmy, oft told, some true and some not so. One which he refuted was that he was unable to stop his car and had to ride around Market Square until it ran out of petrol. Trouble was over 300 people swore they were in the car with him for the circular trip.
He was fond of Horse Racing attending over 45 Grand Nationals, which perhaps explains why one of his kids was born in Liverpool, but how he managed to get his pregnant wife to Liverpool is not known.
Jimmy died in February 1951, his funeral was attended by his family, friends, local dignitaries and members of the ROAB, NA Liberal Club and British Legion. The Rev Ardagh Walters, the top clergy man in the area, officiated at the funeral service.
His obituary in the Mid Devon Advertiser in 1951 said he was one of the most colourful local characters of the last 50 years. Jimmy was talked about for years after his death, remembered for the amusing stories, fund raising and fun he generated during a less prosperous time. I wish we had more like him