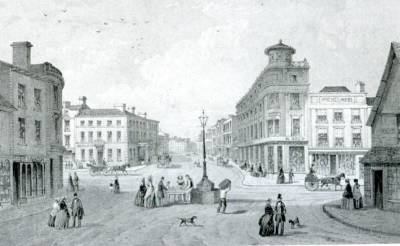 No 2 Courtenay Street – Michelmore's the Draper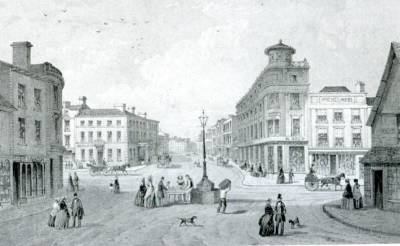 Michelmore's was owned and managed by Philip Symons Michelmore[1], he had previously been in partnership as a Mercer[2] with a Mr Branscombe, but this partnership had been dissolved in 1837[3], when he married Anne Morrish. In 1841 he had a shop in Bridge (Bank) Street, but by 1844[4] he had moved to 1 East Street and 2 Courtenay Street. He lived above the shop, probably on the East Street side, with his wife, five children, and mother-in-law, together with three shop assistants, and four house servants, but later at the six-bedroom property Florian House, Courtenay Park. . The business was described as a Linen and Woollen Drapers in the 1844 Directory, but later it expanded to include carpets, house furnishings and Undertaking. He had other unrelated business interests including a Clay Mine, near St Austell. Philip was an enthusiastic supporter of the Baptist Church[5]; the Church in East Street, being built mainly at his expense, together with the Organ. He served for many years on the Local Board and was instrumental in petitioning for the removal of the Clock Tower. He died two days before Xmas in 1871, five days after his wife, leaving £40,000[6] . The business was sold including the stock in 1882 to a Thomas Watkins, probably because Philip's Son[7] died that year. Watkins retired in 1887 and The Wilts and Dorset Bank occupied No 2, whilst a Fred Andrews (The Bristol Draper) retained 1 East Street, extending his shop into the old stable block adjoining the Bank. He later moved into 8 Courtenay Street.
W (William) Drew was also a Draper, employing 8 Hands. He is first recorded in 1850 at No2 Courtenay Street, but moved to 2a Courtenay Street in 1857, and carried on Business until at least 1870. He moved to Jersey, but was back in Kingskerswell as an Annuitant[8] by 1891. He was on Devon County Council in the 1890's and appeared to have a close relationship with James Stooke (a wealthy local) most of his life, Stooke's daughter living with Drew in 1851.

---
[1] DOB 14 Sept 1808 Cornworthy
[2] A Dealer in Textiles, Fabrics, especially Silks, Velvets and other Fine Materials.
[3] Perry's Bankrupt Gazette 16th Sept 1837
[4] Pigot's Directory
[5] He was treasurer of the Western & Devon Baptist Association and contributed to the Baptist Tract Society
[6] £5 Million today.
[7] Philip Damerel Michelmore
[8]Someone entitled to an annuity