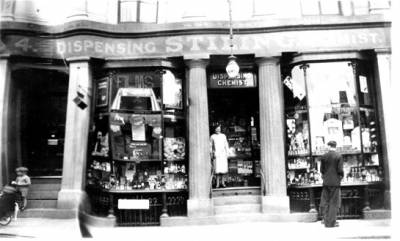 4 Courtenay Street, a History of its Occupants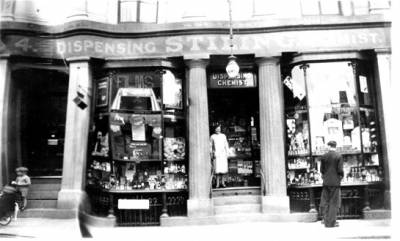 This photo was taken about 1931 of John Stirling's, the Dispensing Chemist at 4 Courtenay Street. The Lady in the doorway is probably Mary Stiling who was the Manageress of the shop about this time.
The premises were built in the mid 1840's, with the somewhat pretentious Doric Columns that were popular at this time.
The first recorded occupant in 1846[1] was a John Henry Parsons, Chemist and Druggist probably from Ottery St Mary[2], but he died in1850 and the business was taken over by Mary Parsons[3], recorded as a Chemist. The premises had 8 rooms[4], so she was able to supplement her finances by taking in three Lodgers, including a Couple with Independent Means. She continued on her own until about 1856, when she married John Poulton, who took over the business. No record can be found of qualifications of either Mary or John. They continued the business until 1883 when the business was acquired by John Edward Stiling, probably on the illness and eventual death of John Poulton in 1884. (John Stiling rented the premises from William Henry Michelmore of 36a Borough Road, London)
John Stiling was born in 1855 in Milverton, Somerset; his father was a Cattle Dealer and Auctioneer. He left home in his mid-teens to become a Druggist Apprentice to Henry Tighe, at No 4 High Street, Exeter. By 1881 he had moved to London, working and living at the very prestigious Quaker Pharmaceutical Chemists, John Bell & Co[5] at 338 (later renumbered 225) Oxford Street, St James Westminster.
Whilst at John Bell's he was called as a prosecution witness at the Murder trial[6] of Dr George Henry Lamson for the Murder of his disabled 18 year old brother- in- law. Lamson had visited the Pharmacy twice and written out prescriptions, said to be for his own use, for Hypodermic Injections of Morphia and Sulphate of Atropia. On the third occasion John refused to serve him. Lamson was found guilty and executed at Wandsworth in 1882. (It is not known if John's involvement in the trial had any repercussions, resulting in his move to Newton Abbot). In 1884 John married Emma Tucker in Marylebone, although she was born at St Audries Farm House, West Quantoxhead, Somerset, of a middle class family. They had three children, Mary, John and Victoria.
It is noteworthy that John Stiling never advertised in the Newspapers, only occasionally taking a full spread in Town Guides[7]. In 1893 he applied for a license to sell Wine by retail, to be consumed off the premises; he had not become an Off Licence, but wished to sell Colman's Wincarnis, Tonic Wine.
John Stiling died in 1933 aged 79, whilst still living at No4 Courtenay Street. The 1939 Register records that his two spinster daughters were running the business, Mary as Chemist Manageress and Victoria as Housekeeper. Mary died in 1972. The 1957 Trade Directory records a George Collinge as the Director of John Stilling's, living at 4 Courtenay Street.
The premises were acquired by Austin's in the late 1970's.

---
[1] John Stiling Advert 1954
[2] Exeter Flying Post 20/02/1845
[3] 1851 Census
[4] 1911 Census
[5] John Bell & Co dates from 1798, John Bell's son Jacob was the founder of the Pharmaceutical Society of Great Britain, member of the Royal Institution and good friend of the Artists Landseer and Frith. They supplied Anointing Oils and Creams to Queen Victoria, have held the Royal Warrant since 1909 and have been Pharmacist to Queen Elizabeth since 1958.
[6] The Pharmaceutical Journal and Transactions Page 778 March 1882
[7] Corn Cure was the headline in most of these adverts